Arbutus Ridge

Appliance Repair Services

We expect a lot from our appliances. It just seems fair for our appliances to expect the best repair services available. From minor issues, to emergency situations, Max Appliance Repair will always have your back. We have over 15 years of experience serving households across Vancouver.
Arbutus Ridge
Fridge Repair

Services

Your fridge needs to maintain an optimal temperature. This is also true of the freezer. If either or both of these components are out of whack, our Arbutus Ridge fridge appliance repair experts can get things back on track. Is your fridge leaking? We can help with that, too.
Arbutus Ridge
Oven Repair

Services

If your oven is always burning your food, the issue may be something to do with the oven itself. This is just one example of what we can do in the way of oven repairs. Is your oven even heating up at all? We can figure out what's wrong!
Arbutus Ridge
Dishwasher Repair

Services

When your dishwasher is leaking, it can create a mess, while simultaneously sidelining one of your most important major appliances. Regardless of the specific issue going on with your dishwasher, if there are any odors, noises, or even poor results coming up, it needs to be addressed.
Arbutus Ridge
Stove Repair

Services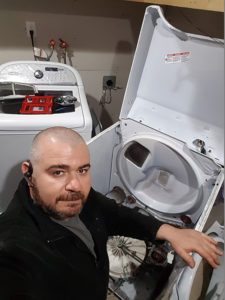 From one burner heating up too quickly, to burners that won't cut on at all, our repair experience can exhaust every possibility, in terms of figuring out what's wrong with your stove. Don't try anything, until you have called us for a diagnosis.
Arbutus Ridge
Washer Repair

Services

If you have a large family, you already know what your washer has to go through from one day to the next. To meet the punishing schedule of daily laundry, make sure you're using Max Appliance Repair to make sure everything is in tip-top shape. This includes flooding or leaking washers.
Arbutus Ridge
Dryer Repair

Services

Dryer repair services are another example of what we offer in the way of Arbutus Ridge appliance repair experience. If your dryer isn't working correctly, or seems to be making obnoxious sounds no matter what, you need only to contact us to set up an appointment.