Our
Appliance Repair

For Blaine Residents

Our appliance repair experience can get to the heart of your problem quickly and safely. When it comes to any of these appliances, we are talking about expensive investments in our home that are defined by numerous components and working parts. We can figure out exactly what's wrong. We have over 15 years of experience serving households across Vancouver.
Blaine
Fridge Repair

Services

If your fridge isn't running at all, that is obviously a problem. At the same time, a fridge that just isn't running as well is just as serious. From figuring out what your fridge needs to run correctly, to dealing with a fridge that leaks, we can deal with anything.
Blaine
Oven Repair

Services

Is your oven failing to turn on? Is the oven running much too hot? You need your oven to cook a number of sensitive foods to an ideal temperature. If you are having preheating issues, or if there is a problem with the fan, you can't do what the oven is designed to do. We will diagnose and address the situation quickly.
Blaine
Dishwasher Repair

Services

Even a simple clog can set your dishwasher back. Are your dishes not coming out as clean as they used to? Are they coming out covered in food trash? There is a solution out there.
Blaine
Stove Repair

Services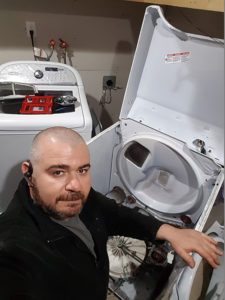 Burners that won't heat up are just one example of a problem we can help you with. You may even have a stove that is cooking your food too much, no matter how much you pay attention. When one of the burners won't cooperate, our Blaine appliance repair company will come in.
Blaine
Washer Repair

Services

From spin cycle issues, to a washer that floods or leaks, we can figure out any washer woes you might be experiencing. If you find yourself in need of emergency assistance, please don't hesitate to contact us for an appointment.
Blaine
Dryer Repair

Services

A faulty motor is just one example of how we help residents just like you get their dryers back to normal. From a dryer that isn't drying your clothes very well, to dryers that concern you as a potential fire hazard, we will know exactly what to do.