Our
Services

Are Available Now!

Do you need emergency repairs for your oven or washing machine? Are you concerned about your dishwasher or fridge? We will work quickly to assess the situation, and make the necessary repairs or replacements! We have over 15 years of experience serving households across Vancouver.
Coquitlam
Fridge Repair

Services

This is part of the foundation of our Coquitlam appliance repair experience. From a leaky fridge, to any unit that is not cooling as it should, we can exhaust every possibility for why your fridge isn't working exactly as it should.
Coquitlam
Oven Repair

Services

No one wants an oven that takes forever to heat up. If you find this to be the case, there are a number of potential culprits. We can take a look, and make suggestions as to how you can get your oven working properly again.
Coquitlam
Dishwasher Repair

Services

Are your dishes still coming out filthy? If this is the case, then there is definitely something wrong with this highly complicated appliance. Given the various parts and components that power this essential part of your home, it can be difficult to troubleshoot the situation. That is where we can come in, getting right to the heart of the problem.
Coquitlam
Stove Repair

Services

Your stove needs to be in tip-top shape, since it is responsible for cooking food to its ideal temperature. If even one of your burners isn't working as it should, that represents a problem. Contact our Coquitlam appliance repair pros for a straightforward, affordable solution.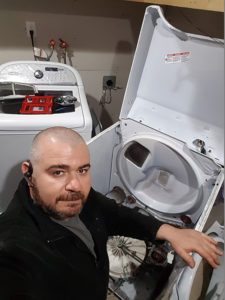 Coquitlam
Washer Repair

Services

Even in a household of one or two people, your washer still goes through a tremendous amount of stress from one day to the next. If your washer is overflowing, failing to spin correctly, or anything else along those lines, we can take a look. Our success rate with washer repair in the area is peerless.
Coquitlam
Dryer Repair

Services

Without a good dryer, your washer is only going to be but so effective. When your clothes come out damp, or even soaked, even after they have run through the dryer for a normal amount of time, don't let the problem worsen. We can get your dryer up and running again in no time.