Appliance Repair

Throughout East Vancouver

We can bring experience and professionalism to minor and major appliance repair concerns. Even if you simply want an inspection or some basic maintenance, we are standing by. We have over 15 years of experience serving households across Vancouver.
East Vancouver
Fridge Repair

Services

When your fridge isn't running correctly, or if it isn't running at all, don't stress out. There are a number of different culprits that we are going to consider. An adherence to an efficient process of elimination gives us the ability to address any fridge repair needs you may have.
East Vancouver
Oven Repair

Services

Your oven needs to be able to cook foods to their proper temperature at all times. If the stove isn't cutting on correctly, or is running much too hot, you aren't going to be pleased with the results. We can make repairs to these or any other complaints.
East Vancouver
Dishwasher Repair

Services

A clogged or leaky dishwasher can be problematic. If certain components aren't working, you are likely going to find yourself with filthy dishes, even after a cycle. We can make repairs under these circumstances with ease.
East Vancouver
Stove Repair

Services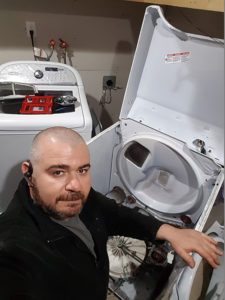 Our East Vancouver appliance repair experience covers any problems you might be dealing with, when it comes to the functionality of your stove. This is another appliance where your temperature control is crucial. We can make assessments and repairs to any issues in this area, but we can also be there for any imaginable problems with the stove.
East Vancouver
Washer Repair

Services

East Vancouver appliance repair services should always include your washers. This is a machine made up of many components, and is frequently running under a lot of constant use and press. If the washer is flooding or leaking, we can figure out what's wrong. The same can be said for a faulty spin cycle, or even a washer that isn't running at all.
East Vancouver
Dryer Repair

Services

Your dryer is naturally another example of a major appliance. When your clothes are coming out damp or soaked, or if you are hearing strange noises during operation, contact us for repair solutions.