Hastings-Sunrise

Appliance Repair Services

Our repair services can handle major projects, minor fixes, or simply inspecting your current appliances for any potential issues that might arise later on. With these appliance repair services in your corner, you won't have to worry about a thing. Your fridge, dishwasher, or oven will be able to provide you with years of service. We have over 15 years of experience serving households across Vancouver.
Hastings-Sunrise
Fridge Repair

Services

We take fridge repair seriously at Max Appliance Repair. Our appliance repair in Hastings-Sunrise experience can deal with a leaky fridge, a fridge that isn't cooling correctly, or even a fridge that is cooling your food too much.
Hastings-Sunrise
Oven Repair

Services

Taking care of your oven means more than regular cleanings and scrubbings. It also means knowing where to turn for professional assistance. We can help with ovens that are not heating up properly, as easily as we can help with ovens that are failing to heat up at all. We can also help with any oven that might be burning your food.
Hastings-Sunrise
Dishwasher Repair

Services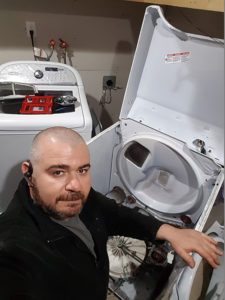 The last thing you want to do with a leaking dishwasher is let that problem continue on. Not only is it unpleasant to deal with, but it can also cause even more damage to the dishwasher over time. Our technicians can address a dishwasher that isn't washing dishes, is making weird sounds, or whatever the case may be.
Hastings-Sunrise
Stove Repair

Services

Our Hastings-Sunrise appliance repair work can also apply to your stove. Are the burners giving you a lot of problems? From one or more burners not working at all, to one or more burners cooking too much or too little, we have the experience you'll need to get your stove up and running again.
Hastings-Sunrise
Washer Repair

Services

A stressed-out washing machine is not uncommon. Is your spin cycle not quite spinning? Is the washer leaking, or perhaps constantly filling up with water? We can repair these situations.
Hastings-Sunrise
Dryer Repair

Services

You can take care of your dryer by clearing out the lint trap, and making sure to never overload it. Another good way to take care of your dryer includes contacting us to repair a dryer that just won't dry clothes properly.