Kerrisdale

Appliance Repair Services

Your major appliances go through a major amount of wear and tear. This is not meant to be alarmist. It is just a good idea to remember that even the best fridges and dishwashers can become worn with time. That is where we come in. We have over 15 years of experience serving households across Vancouver.
Kerrisdale
Fridge Repair

Services

Do you feel like everything in your freezer is becoming too frozen? Is the fridge component not cooling as it should? These are two good examples of where our Kerrisdale appliance repair work can shine. No matter what the problem might be with your fridge, we can get you back on track.
Kerrisdale
Oven Repair

Services

Put our appliance repair experience to work on your oven. Do you find that the oven just isn't heating up correctly? Are things consistently coming out burnt? If either of these scenarios apply to you, give us a call!
Kerrisdale
Dishwasher Repair

Services

Don't worry if you find your dishwasher leaving you with dirty dishes. This is just one example of our dishwasher repair experience. It could be something as simple as a small, worn-out part. It could be something as straightforward as a clog. It could certainly be more complicated than that. No matter what, we will find the solution.
Kerrisdale
Stove Repair

Services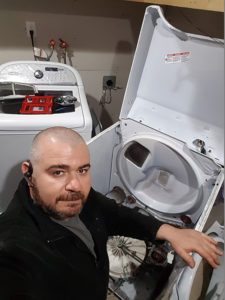 Our Kerrisdale appliance repair insights can get your stove back to flawless functionality, as well. Is one burner underperforming? Are several burners not even working? This is another case in which there can be a number of possible culprits. We promise to find out exactly which one is yours.
Kerrisdale
Washer Repair

Services

If you have ever had the experience of opening the washer, peering in, and finding it filled with water, then you know how invaluable appliance repair professionals can be. We can deal with flooding, a leaky washing machine, and much more.
Kerrisdale
Dryer Repair

Services

Your dryer goes through just as much stress as your washing machine. Our maintenance measures and repair experience can ensure your dryer will always be there for you. We can also ensure the dryer is running safely at all times.