Killarney

Appliance Repair Services

We can be there for absolutely any repair needs that you may have. This can include emergency repair situations for appliances you absolutely need from one day to the next. At the same time, we can also come to you for a straightforward inspection. We have over 15 years of experience serving households across Vancouver.
Killarney
Fridge Repair

Services

Frustration doesn't even begin to explain the feeling of a fridge that won't cool correctly, won't stop leaking, or doesn't seem to work at all. We have repair experience with all of these scenarios. We can make minor or major repairs with ease.
Killarney
Oven Repair

Services

If you need appliance repair in Killarney that also features stove troubleshooting, we can help. If your stove isn't regulating temperature correctly, you can find yourself dealing with a host of frustrating problems. If your stove isn't running hot enough, runs too hot, or doesn't run at all, contact us for help.
Killarney
Dishwasher Repair

Services

A leaky dishwasher is one of the most well-known examples of common dishwasher problems. Don't ignore the problem, or any issue that might come up with your dishwasher, including weird noises and/or odors. Let us take a look and figure out what's wrong.
Killarney
Stove Repair

Services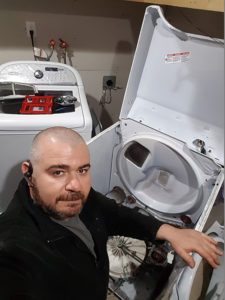 Taking care of your stove means making sure all of the burners are working correctly at any given time. If even one of your burners stops working, or isn't cooking your food as it should, get in touch with us at once for a diagnosis and stove repairs.
Killarney
Washer Repair

Services

Taking care of your washer means more than not overloading it, or making sure it is serviced by a technician on a regular basis. It also means knowing where to go when the washer is leaking, flooding, or simply failing to go through the spin cycle correctly. Our experience covers all of those.
Killarney
Dryer Repair

Services

A dryer that doesn't dry your clothes properly can be pretty frustrating, too. If you need Killarney appliance repair experience that can address a dryer that constantly seems to be malfunctioning, look no further than Max Appliance Repair.