Our
Services

For Langley Residents

Our Langley appliance repair experience can be there for any model or manufacturer you can imagine. Whether your stove isn't warming up, or your dryer isn't drying your clothes, we can get to work quickly, and get your appliances back in optimal working form. We have over 15 years of experience serving households across Vancouver.
Langley
Fridge Repair

Services

A refrigerator that suddenly starts leaking large amounts of fluid can send you into a panic. The last thing you want to do is address the problem on your own. This can exacerbate things. Our appliance repair pros can diagnose a fridge that runs too cold, or even one which doesn't run at all.
Langley
Oven Repair

Services

If your oven isn't heating up correctly, or is even burning food on a consistent basis, this is a problem. Your oven is defined by a variety of different components. We will take a look at all of them to figure out what's going on.
Langley
Dishwasher Repair

Services

Clogs and general wear and tear are not uncommon with dishwashers. Diagnosing a dishwasher that's on the fritz can be stress, to say the least. With so many different potential culprits, we will exhaust every option to get to the right one.
Langley
Stove Repair

Services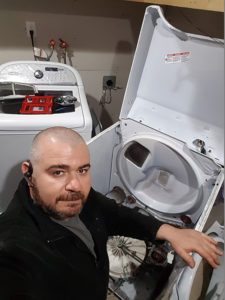 If your stove isn't running as it should, you're never going to cook your food correctly. Is your food coming out burnt time and time again? Do you find that whenever you're cooking something, it doesn't quite cook all the way through? We can address either possibility.
Langley
Washer Repair

Services

This is another appliance with a penchant for potentially leaking. If your washer keeps leaking, or is consistently flooding itself, don't let the problem evolve into something more serious. Contact our washer technicians immediately for a solution!
Langley
Dryer Repair

Services

Without proper care, your dryer can not only stop working correctly, but also become something that presents a distinct fire hazard. We can inspect your dryer, even if nothing seems to be the matter.