Our
Appliance Repair

Throughout Lynden

Our goal will always be to troubleshoot the appliance from top to bottom. Once we know what to do, we're going to get to work quickly to restore the fridge, stove, oven, or whatever the case may be, to its proper working order.
Lynden
Fridge Repair

Services

A refrigerator that isn't running properly can make life stressful quickly. Whether the fridge isn't cooling enough, or is even running way too cold, we can help. We can make repairs to leaky fridges and so much more. We can also help with a faulty icemaker, or even an exterior that is overheating.
Lynden
Oven Repair

Services

If the oven isn't cutting on at all, that is a problem. The same can be said for ovens that aren't heating up enough, or ovens that are running much hotter than your chosen setting. We have Lynden appliance repair experts who can address any of these problems.
Lynden
Dishwasher Repair

Services

From a heating coil that won't heat up, to clogged areas and broken components, there are all kinds of different dishwasher repair needs we can address. If the dishwasher happens to be leaking, we can help with that, as well!
Lynden
Stove Repair

Services

Stove repair can cover a variety of different problems. Even one burner that isn't heating up correctly, or is burning your food, can present a substantial disruption to your day-to-day life. Trouble keeping your temperature properly regulated? We can deal with any of these scenarios.
Lynden
Washer Repair

Services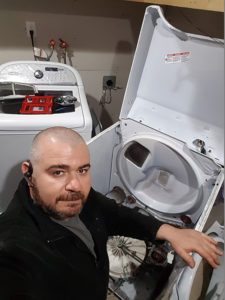 Your washer goes through a ton of stress from one day to the next. If you find the washer flooding itself on a regular basis, leaking, or not working correctly during the spin cycle, keep in mind that we have experience and equipment for any of these issues. Don't let a minor issue become more serious seemingly overnight.
Lynden
Dryer Repair

Services

Our dryers are responsible for more than we sometimes give them credit for. Clothes that come out damp or even soaking wet is absolutely unacceptable. We have repair experience for these issues, and for anything else concerning your dryer.