Services

For Maple Ridge Residents

Appliance repair can come in a variety of forms. You may simply need to replace a single worn-down component for the appliance in question. On the other hand, the work may be more serious. Regardless, we are going to be able to take care of everything. We have over 15 years of experience serving households across Vancouver.
Maple Ridge
Fridge Repair

Services

It almost goes without saying that you need your fridge for a lot. We are talking about your primary method of food storage. If the temperature for the fridge and freezer are not as they should be, or if you're dealing with a leak or foul odor, we can help.
Maple Ridge
Oven Repair

Services

When it comes to Maple Ridge appliance repair services for your oven, keep in mind that we can take care of any issues you might be experiencing. Of course, this extends to one of the most common oven issues, which is the fact that it is not heating up as it should. We are more than happy to check things out.
Maple Ridge
Dishwasher Repair

Services

Even a minor issue with one of the parts on your dishwasher can create a plethora of tedious headaches. Are your dishes still coming out in filthy? Are there any leaks or other issues? Don't wait to call us in to take a look.
Maple Ridge
Stove Repair

Services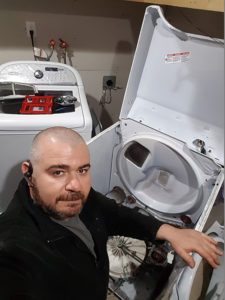 Regardless of the specific stove you own, it should go without saying that you want it to run flawlessly from one day to the next. If your food isn't cooking correctly, or if a burner isn't heating up at all, this is a problem.
Maple Ridge
Washer Repair

Services

Our Maple Ridge appliance repair insights can also benefit your washer. Are clothes coming out entirely too drenched? Is some part of your washer's process not functioning correctly? These are just two issues we can address.
Maple Ridge
Dryer Repair

Services

Our dryer services can make repairs, prevent your dryer from becoming a fire hazard, and much more.

Contact us today to set up an appointment. We are always standing by!