New Westminster

Appliance Repair Services

Our New Westminster appliance repair services can be fit to meet your needs. This allows us to work with a deep inventory of major appliances from all of the leading manufacturers. Even if the appliance in question is old and ailing, we can still take a look. We have over 15 years of experience serving households across Vancouver.
New Westminster
Fridge Repair

Services

Fridge repair experience is essential in any appliance repair company you might consider. After all, we are talking about one of the most important appliances there is. Count on our experts to correctly diagnose and treat a leaky fridge, an overcooling fridge, or whatever the situation offers.
New Westminster
Oven Repair

Services

If you are someone who uses your oven a great deal, don't fool yourself into thinking you are going to be able to do without one. If your oven isn't heating up correctly, we can be there in a flash to help you get it working again.
New Westminster
Dishwasher Repair

Services

No one likes to reach into the dishwasher, and find themselves stuck with dirty dishes. Our New Westminster appliance repair experience can make sure your dishwasher is turning out beautifully clean dishes each and every time.
New Westminster
Stove Repair

Services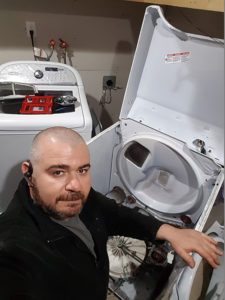 The stove is another major appliance we tend to use more than we realize. Don't let yourself go any amount of town without being able to use yours. If you have one or more burners failing to cook correctly or at all, we can make repairs to any parts that might be worn down beyond repair.
New Westminster
Washer Repair

Services

The washer has to endure a lot of stress in keeping your clothes beautiful. Don't overload the washer, and make sure everything is hooked up properly at all times. For serious repair needs, Max Appliance Repair can be there.
New Westminster
Dryer Repair

Services

The dryer is just as important as the washer. From weird noises, to a dryer that doesn't work at all, we can handle it all, when it comes to repair work.