Our
Services
Our North Vancouver appliance repair experts can work with any model of any home appliance covered in our list of services. Whether you need emergency repairs, or simply have concerns, we can take care of everything. We have over 15 years of experience serving households across Vancouver.
North Vancouver
Fridge Repair

Services

Is your fridge not quite keeping things cool? Does it seem to be leaking? Our fridge repair services can address any problem quickly and safely.
North Vancouver
Oven Repair

Services

What should you do if the oven seems to be taking longer to heat up than usual? If you find that your oven just isn't heating things up correctly, don't wait to get in touch with one of our professionals. We can troubleshoot your oven easily, and make suggestions for repair work from there.
North Vancouver
Dishwasher Repair

Services

When you find that your dishes aren't coming out as clean as they should be, something is very clearly wrong. Our appliance repair for North Vancouver experience will exhaust every possibility. Your dishwasher is naturally made up of many small components. Any one of those could be the culprit. We can get your dishwasher running again in no time.
North Vancouver
Stove Repair

Services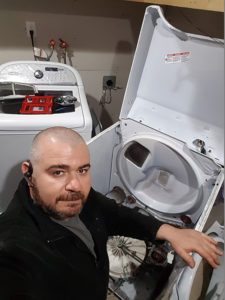 When it comes to your stove and oven, we're talking about appliances in which being able to cook things to the proper temperature is a must. If one of your burners isn't heating up very quickly, or if it is not heating up at all, don't let the problem worsen from there. Regardless of your specific stove, we can make any repair or replacement demands you may have.
North Vancouver
Washer Repair

Services

Few appliances go through as much from one day to the next as your washer. If you happen to have a large family, you know exactly what we are talking about. If your washer is overflowing with water, causing leaks, or is suffering from damaged pumps or motor issues, we can take a look and get you back on track.
North Vancouver
Dryer Repair

Services

Your dryer is obviously the second part of your essential laundry team. If your clothes aren't coming out dry, or if you are concerned about your dryer becoming a fire hazard, give us a call at once. We can take steps to ensure your dry is regulating its temperature properly.