Our
Services

Are Here For You!

Is your freezer no longer freezing? Are you hearing strange noises from your washer, dryer, or dishwasher? Appliance repair work can be challenging, even stressful. We can take care of everything. We have over 15 years of experience serving households across Vancouver.
Port Moody
Fridge Repair

Services

No matter how many people you might have in your home, your fridge is one of your most important appliances. If your fridge is running too cold, or not cold enough, or is making strange noises, we can be there quickly. Leaky fridge? Not when we're finished!
Port Moody
Oven Repair

Services

Our Port Moody appliance repair experience also extends to oven repair. If your oven isn't heating up very well, or isn't heating up at all, that is a problem. We can take a closer look, determine exactly what the issue is, and get to the solution.
Port Moody
Dishwasher Repair

Services

Dishwashers are absolutely crucial these days. This is particularly true for anyone who has children. If your dishes are not getting clean, or if the dishwasher itself is leaking, the last thing you want to do is panic. Contact us immediately for repair work instead.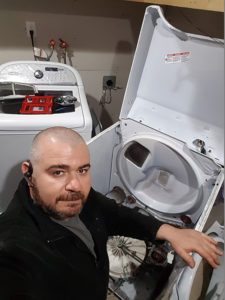 Port Moody
Stove Repair

Services

We can handle any stove repair concerns you might have. This includes burners that are not working correctly, or even if the entire stove itself seems to be having issues. Your stove can also be burning much too hot. We can address that, too.
Port Moody
Washer Repair

Services

Leaks and motor issues are too common examples of what we address as Port Moody appliance repair experts. We can make sure your washer is running exactly as it should, which includes all of its working components.
Port Moody
Dryer Repair

Services

Temperature regulation is absolutely crucial in a good dryer. If your clothes are taking too long to dry, or aren't coming out dry at all, there are many different factors to blame. Is the dryer no longer turning? Do you notice any strange sounds! We can take care of things.