Renfrew-Collingwood

Appliance Repair Services

Our appliance repair experience works efficiently and quickly to restore your specific appliance. Following a careful process of elimination, we can figure out exactly what's wrong with your fridge, your stove, or whatever the case may be. We have over 15 years of experience serving households across Vancouver.
Renfrew-Collingwood
Fridge Repair

Services

No one wants to deal with a leaky fridge. The same can be said for a fridge that doesn't cool enough, cools too much, or doesn't cool at all. We can address those issues, as well as anything else that might be affecting the performance of your machine. Problems with the ice maker? We can help!
Renfrew-Collingwood
Oven Repair

Services

You can be certain that our Renfrew-Collingwood appliance repair experience extends to everything concerning your oven. If your oven isn't starting at all, that can be a problem. This also applies to an oven that seems to burn your food every single time. We can repair or replace anything that might be causing these or other common oven issues.
Renfrew-Collingwood
Dishwasher Repair

Services

Even in a small household, the dishwasher goes through a lot. It is easy for parts to become worn down, or to break entirely. This can lead to leaky dishwashers, or dishes that come out filthy, no matter what. We can address these issues, as well as many others impacting dishwasher performance.
Renfrew-Collingwood
Stove Repair

Services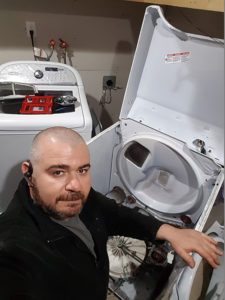 The stove is crucial for making sure meats and other items are cooked to their proper temperature. If the burners of your stove aren't acting as they should, this can mean burners that don't start at all, burners that don't cook enough, or even burners that cook too much. Our stove repair experience can address any of these.
Renfrew-Collingwood
Washer Repair

Services

Is your washer leaking? Is it flooding? Are you experiencing problems with the spin cycle? If you find yourself in any of these situations, give us a call. All of these issues have one solution or another.
Renfrew-Collingwood
Dryer Repair

Services

For any dryer problems, including a dryer that leaves you with soaking wet clothes, contact our Renfrew-Collingwood appliance repair company at once. Is your dryer underperforming in general? We can help.