Our
Appliance Repair

Services

Whether you're experiencing issues with your washer, dryer, stove, oven, fridge or dishwasher – you can rely on our certified appliance repair experts to resolve any problems in a quick and efficient manner. Don't let malfunctioning appliances deter you from your daily routine, our team will gladly provide you with professional appliance repair in Richmond so you can get on with your day. We have over 15 years of experience serving households across Vancouver.
Dishwasher Repair

Richmond

When a dishwasher is leaking, making peculiar sounds, or any showcasing other strange behaviour, it may be time for a dishwasher repair. Our technicians are ready at a moment's notice to help.
Stove Repair

Richmond

If your stove isn't working as it should, it may be time to call in the professionals for a stove repair. We can easily fix any problems your stove may be experiencing – from burners not working to temperature regulation issues.
Washer Repair

Richmond

A faulty washer results in your time and convenience being robbed. Either you deal with dirty clothes, hand-wash them or go to a laundromat to get your laundry done. For a leaky or strange sounding washer, give our a team a call for a washer repair service.
Oven Repair

Richmond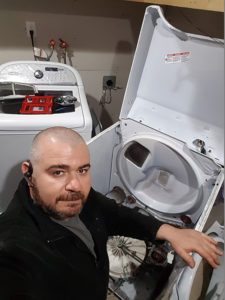 Craving cookies but your oven isn't operating as it should? Is the oven not working? Is it a temperature issues? Whatever problem it may be, our team can diagnose the issue and perform a quick and professional oven repair. Just call us, we will be there in no time!
Dryer Repair

Richmond

If your dryer isn't functioning as it should, doing laundry can be a long and trying process. Whether your dryer heating up more than it should, or has stopped spinning or it simply won't turn on, call us for a dryer repair service.
Fridge Repair

Richmond

A fridge that doesn't keep the ideal temperature, leaks, or has a broken motor needs immediate attention and possible repair. Our team can pinpoint the exact issue and find appropriate solutions to provide you with exceptional fridge repair services – before your food spoils!