Our
Appliance Repair

Services

Max Appliance Repair in Surrey is capable of resolving any issues you may be experiencing with any one of the following household appliances: fridge, stove, oven, washer, dryer, and dishwasher. We have the know-how to fix your appliance regardless of its make or model. Give our team a call for quick and efficient same-day appliance repair in Surrey and the surrounding area. Allow us to solve your appliance-related problem. We have over 15 years of experience serving households across Vancouver.
Dishwasher Repair

Surrey

Is your dishwasher having issues with its motor, thermostat, pump or any other parts? Don't wait, give our team of appliance repair experts a call and we will be there in no time. Regardless of the problem, our technicians will assess and fix your dishwasher before you know it. When you need expert dishwasher repair, we have you covered!
Stove Repair

Surrey

Having a stove that doesn't work properly can be a major problem for households, whether they are big or small. If you are experiencing temperature problems, or the stove simply will not turn on, call us and we will gladly be there that day to offer stove repair.
Washer Repair

Surrey

Whether your washer is making abnormal noises, leaking, or just not working as it should – don't delay calling on our washer experts for same-day washer repair. Don't resort to washing your clothes by hand, simply call Max Appliance Repair. We provide affordable and reliable washer repair services that you can count on.
Oven Repair

Surrey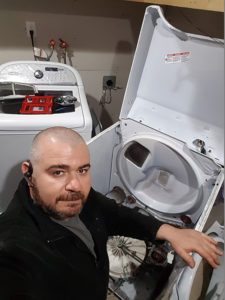 If your oven is mafuncting – for example, it isn't turning on or doesn't properly regulate temperature, call us at Max Appliance Repair. Don't let a faulty appliance take you away from a delicious, home-cooked meal. We will be there right away to perform oven repair so you and your loved ones can enjoy future meals without issue.
Dryer Repair

Surrey

Have you ever finished a load of laundry only to find out that your clothes were still wet? Dryers can sometimes fail to heat properly, or even get too hot. In some cases, dryers stop turning or won't turn on at all. Luckily, at Max Appliance, we offer same-day dryer repair so you can get back to doing your laundry as your normally would.
Fridge Repair

Surrey

Having issues with your fridge can create many additional problems, such as food spoilage which results in a waste of money. This is especially why our team takes fridge repairs so seriously. Call us at any time and we will make sure to get your fridge back to its fully operational form ASAP.