The Sunset

Appliance Repair Services

Do you need emergency appliance repair? Do you simply want to learn more about how we can help you to take the best possible care of your appliance? Our services can be fit to meet your specific appliance repair needs. We have over 15 years of experience serving households across Vancouver.
The Sunset
Fridge Repair

Services

Don't let a leaky fridge become something worse than it has to be. From water coming out of the bottom, to a fridge and/or freezer that doesn't quite cool or freeze, we provide repair solutions for every fridge from every possible manufacturer.
The Sunset
Oven Repair

Services

If you're looking for appliance repair in The Sunset that includes ovens of all shapes and sizes, Max Appliance Repair can be there to provide essential assistance. We can fix an oven that isn't heating up correctly, as easily as we can make repairs to an oven that isn't heating up at all.
The Sunset
Dishwasher Repair

Services

Dishwashers go through a lot. We can be there to make sure you will always be able to rely on them. We can deal with dishwashers that won't stop leaking, dishwashers that aren't cleaning correctly, or whatever the case may be.
The Sunset
Stove Repair

Services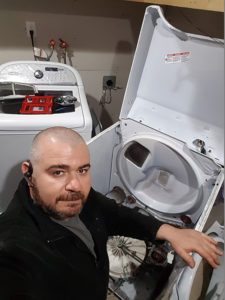 Our experience with appliance repair in The Sunset can cover any imaginable situation with your stove. Are one of the burners constantly burning your food? Does one or more burner fail to come on at all? If either of these situations apply, contact us at once!
The Sunset
Washer Repair

Services

Washer repair services can make sure you know what to do, if you find your washer flooding, leaking, or failing to go through the spin cycle correctly. We can diagnose any of these situations correctly, and make repairs that will ensure the natural lifespan of your washing machine.
The Sunset
Dryer Repair

Services

In the event that your dryer isn't giving you the dry clothes you obviously need, contact Max Appliance Repair to come take a look. If your dryer isn't performing in flawless fashion, you're going to be glad you knew to call us.