Services
We Offer
We understand that home appliances have an essential role to play. Without a fully operational fridge, for example, your food will spoil and your hard-earned money will be wasted. All the more reason to call Max Appliance Repair when you need fast and reliable appliance repair services in Vancouver. No matter the make or model of the appliance, if you need fridge, stove, oven, washer, dryer or dishwasher repair services – we're the team to call.
Fridge Repair

Vancouver

If your fridge isn't operating as it should, simply contact us. Don't waste your time fretting over the issue. Our team will be able to diagnose the root of the problem and provide you with a quick and affordable solution.
Oven Repair

Vancouver

Is your oven is getting too hot or not heating enough? In order to cook a perfect meal, the temperature in your oven needs to work as intended. If it doesn't, give us – your local appliance repair experts – a call. Also, avoid using your oven until our team has diagnosed and repaired the problem.
Stove Repair

Vancouver

Much like your oven, your stove also needs to operate at the correct temperature for optimal cooking. If it's too hot, you could burn your food and, if it's not heating correctly – or at all – you will spend hours waiting for that pot to boil. Whether you notice a problem with one or more burners, we are always ready to help and our team is only one phone call away.
Dishwasher Repair

Vancouver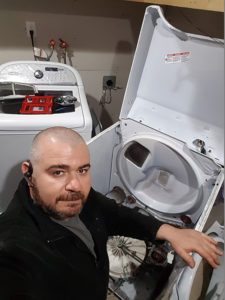 From clogged filters and worn gaskets to more serious issues like motor, thermostat and electronic faults, our team has been trained and is experienced to repairing it all. No matter the problem or the brand of your dishwasher, you can always depend on Max Appliance Repair to get this essential appliance in perfect working order again.
Washer Repair

Vancouver

It's difficult to imagine life without your washer, until the day comes when it no longer works as it should Common problems include leaks, motor issues, faulty pumps and electronic faults. For fast and reliable repairs, contact us right away.
Dryer Repair

Vancouver

If your dryer is no longer turning or it is failing to regulate the temperature properly, give our team a call. We strongly recommend that you avoid using this appliance until we have performed a thorough diagnoses and the required repairs.