What
We Offer
At Max Appliance Repair, we understand the importance of operational appliances. The routine every household has in a week heavily depends on a fully functioning appliance, whether that is a fridge, stove, oven, washer, dryer or even dishwasher. All these home appliances were clearly essential investments, and as such should be repaired rather than replaced. You can rely on our team of experts to perform professional repairs on all household appliances. We have over 15 years of experience serving households across Vancouver.
Fridge Repair

Victoria

Most common fridge problems include temperature control issues, leakage and a non-operation fridge. No matter the problem, our technicians will arrive promptly to diagnose the issue and perform the necessary repairs.
Stove Repair

Victoria

If your stove burner, or burners, is not working as it should, contact our team today. Regardless of the stove type, the brand or model, we are trained and qualified to assess the problem and provide practical repairs.
Oven Repair

Victoria

If your oven is no longer running at the set temperature, if an error message is appearing on screen, or you notice any other type of fault, it's best to avoid using this appliance and call us immediately for speedy repairs.
Dishwasher Repair

Victoria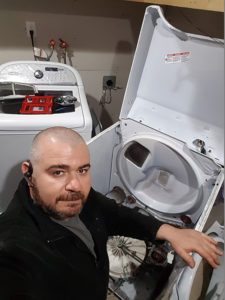 With so many parts working together to operate a dishwasher, it's no wonder their malfunctions can be tricky to diagnose. Fortunately, we are trained to identify common and uncommon problems in all dishwashers no matter the brand or model. Call our team at Max Appliance Repair for reliable dishwasher repairs.
Washer Repair

Victoria

Leaks, faulty pumps and electronic issues are just some of the more common issues that can affect your washer. Don't let a faulty washer ruin your laundry day – call on our technicians for same-day on-site repairs.
Dryer Repair

Victoria

If your dryer is getting too hot, or not hot enough, you're looking at a faulty dryer. Don't resort to hanging your clothes on a dry-rack, simply call our team and we will be at your door, fully equipped to perform the necessary repairs.