Our
Appliance Repair

For West Vancouver Residents

From minor repairs, to major work, and to everything in between, we are ready. One of the most frustrating aspects of many common appliance problems is not knowing where the source of the issue comes from. This is just one example of how we can make things a lot less stressful.
West Vancouver
Fridge Repair

Services

Is the fridge not running or starting? Are things not as cool as they should be? These are just two examples of how our appliance repair pros can help. Whether the fridge is leaking, or the exterior is overheating to an alarming degree, we can get your fridge back on track.
West Vancouver
Oven Repair

Services

When your oven doesn't turn on at all, it can be easy to panic. Don't worry about a thing. Chances are, we can get to the heart of whatever the problem might be. If your oven is experiencing preheating issues, or if strange noises are coming out, give our oven technicians a call.
West Vancouver
Dishwasher Repair

Services

Heating coil problems and faulty temperature switches are two examples of where our West Vancouver appliance repair experience can shine. Are your dishes coming out filthy? Are you fighting a clogged dishwasher? We'll know what to do.
West Vancouver
Stove Repair

Services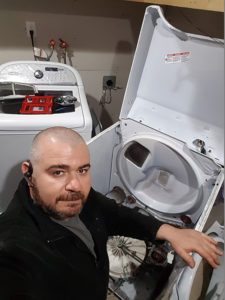 Repairing your stove can be a headache. From a burner that won't heat up, to food that doesn't seem to cook the way it should, we can address any stove under any circumstances. Our experience even extends to stove coil damage, or issues with your fuse.
West Vancouver
Washer Repair

Services

From replacing your belt, to figuring out why your washer is constantly leaking or flooding, there are a lot of different problems a washer can face under even the best of maintenance and care. If your washer seems to be ailing, contact us for a diagnosis. This will be followed up with some suggestions on how to best tackle spin cycle issues, or a washer that fails to start at all.
West Vancouver
Dryer Repair

Services

Motor issues are just one example of something that can go wrong with your dryer. If your dryer isn't starting up, or is making odd noises, our West Vancouver appliance repair company can help.


Contact us today with any questions you may have.