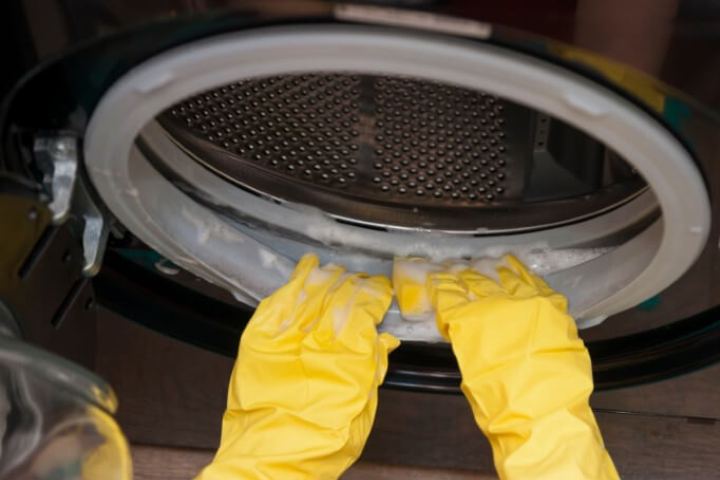 How to Prevent Black Mold from Growing in your Washer
A moldy washer is not very good. Not only will your laundry smell bad, but these spores can actually become so out of control that it can affect your health. The good news is that there are steps you can take to keep your washer smelling fresh and prevent black mold from growing inside this appliance.
Wipe Down the Interior
The first tip to remember is to wipe down your washer every time you are done doing your laundry for that day. Yes, this does mean that you will have to set aside a few extra minutes but it will certainly be worth it in the end.
Mold needs moisture to grow. So, by wiping the moisture away, you are making your washer less hospitable for these spores. Don't forget to wipe down the detergent dispenser too! If possible, remove the dispenser tray and clean it thoroughly. In many cases, some detergent can be left behind in the tray and this can make future loads of laundry smell bad.

Leave it Open
Air is excellent for helping your washer dry out even more. If you close the door or lid of your washer after doing your laundry, you will trap all the moisture inside. Even if you wipe down the interior of the appliance, there are still areas that you cannot reach.
Black mold does not only grow in areas that are clearly visible. It is far more likely to grow in between various spaces that are difficult or impossible to reach without taking your appliance apart. So, to allow your washer to dry out thoroughly, you need to let fresh air do the work for you.

Remove Laundry Promptly
This should go without saying but many people still forget to remove laundry promptly from their washer. When this is the case, there is an excessive amount of humidity inside the washer. Not only can mold grow in the appliance, but it can also start to affect your laundry. If you leave wet laundry in your washer for hours, or overnight, you will notice that they will not smell as fresh as they should.
Even if you hang them out to dry or dry them in your dryer afterward, they will still smell bad. Especially when these clothes come into contact with even the smallest amount of sweat. Prevent this by making sure that you remove your laundry as soon as the wash cycle is done.

Clean the seals
Dirt and debris love to hide in the rubber seals that line the door or lid of your washer. Use a cloth to wipe down the seals and try to clean in between all the folds to make sure that mold has not already taken hold. This is one of the most common spaces where mold will grow so be sure to inspect the entire seal as you clean it.

Use the Correct Detergent
If you use the wrong detergent or if you use too much, it can encourage the growth of mold. Follow the instructions of the washer manufacturer as well as the label on the detergent for best results. It's also worth trying different types of detergent to find out which one works best for you.

Run a Cleaning Cycle
As part of your regular washer maintenance routine, you should run a cleaning cycle approximately once a month. You can use bleach or vinegar and you can choose the cycle that suits your needs best. A hotter water cycle will also help kill off any spores that may have started to grow inside the washer. Vinegar is excellent for removing any build-up resulting from hard water and detergent while bleach also disinfects. Choose your cleaning method based on your needs and preferences.
By keeping your washer clean, you will ensure that it will last that much longer too. As you clean your appliance, take note of any possible concerns, such as a worn door seal. Contact Max Appliance Repair Vancouver at (604) 229-4068 for all your washer repair needs.